Page Title goes here
short description
WhatsNew:
Release Feb 23, 2020
Berek Szczekacz and Chana Szmidt
Berek Szczekacz and Chana Szmidt had 12 children. Searching for Birth, Marriage, Death records (BMD) brings us occasionally to meet living family members. I admit, getting to know new blood related family members is the most exciting part of doing genealogy. Lately I met Yoram Shachar, one of Berek and Chana's great, greatgrandchild about whom I haven't heard until Dec 15, 2019. The meeting has prompted me to create pages for the descendants of Berek Szczekacz, our mutual great, great grandfather. The released page will introduce you to the 12 children and to their children. Currently there are only two documented stories, about Layzer Ludwig Szczekacz and about Frajdla Szczekacz. The stories about Yoram Shachar, Samuel Szczekacz (The artist, Shmuel Tzur), the many Shakter's descendants and others will follow soon.
Release Nov 9, 2019
Yosef Kaluzynski and Chana nee Sznajderman
Release Jan 6, 2018
Fajgla Kaluzynski and Wolf Szperling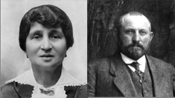 The Holocaust Had no Mercy for the Szperling Family
Stories and Photos
Release June 26, 20
A Telephone call from Australia to Californiaswept Jane and me into a research in the Czech Republic. Several families appeared for a moment and then disappeared during the Holocaust. Very few suvivors, many Yad Vashem testimony pages and research in the Czech Republic declared Jane, Dov Kuflik, his sister, Idit, and the five grandchildren of Josef Arieli, my self included, are 3rd cousins. Jane, Dov and his sister, Idit, are 2nd cousins.
The following story is about Dawid Sznajderman, the son of Abram Moshe Sznajderman and Ajdla Koenigsberg, who survived the tumultuous time of WWII.

Marek Kaluzynski was son of my great grandfather, Abram Kaluzynski, and his second wife, Chaja Dzialoszynska.

Marek's mother, Chaja, died around 1912 in Czestochowa, leaving his father with five young children;
the youngest, Sara, was two years old. Marek was fourteen years old.
Minutes from Fela Kluzynski's Life in Photos

Important Links
Read the Beautiful translation by Jerrold Landau
Connect with Czestochowers all over the wold.
The World Society of
Czestochowa Jews
And Their Descendants
Family History
Memories, like sand stones
Slowly, a grain follows a grain,
Erode, crumble, and vanish.
Sea waves and wind
Sweep them away
Hurry
Listen to the voices
Collect the words,
The names, the episodes, the moments…
Carve and seal them
In a meticulously crafted pendant
Close to your heart
Allow them to live forever.
Let Us Start With Basic Steps:
Write down everything you know about yourself and about your family:
Full names
Date of Birth, Marriage and Death
Where these events occured
Talk to your grandparents, parents, uncles and aunts
Write down family anecdotes
Scan family photos
Scan Family documents
Product Catalog
The catalog page is layed out as an example of how you can set up your product sales page. This page does not use an ecommerce shopping cart solution although there are many ecommerce solutions available. This catalog page is a simple table based layout that includes the PayPal 'Add to Cart' button. The PayPal button is created on the PayPal website, then inserted into the product page. If you wish to use PayPal buttons you would need to sign up for a PayPal account. You can then edit the properties of the included PayPal buttons, or use a PayPal button wizard tool to insert the buttons for you.
The 'View Large Image' link opens a lightbox window which displays a larger product image and description.
Select your products
Product Name

Price: $9.99

Description: Product details go here


Product Name

Price: $9.99

Description: Product details go here


Product Name

Price: $9.99

Description: Product details go here


---
Samuel Szczekacz, "portret" by Tzila Binder, 1940s,

coal on paper, 31 x 26,6 cm. Photo: Galerie Berinson, Berlin



- 1 -

Painter, graphic designer, associated with the Łódź avant-garde movement. He also created spatial art, sculptures and architectural design. Born on May 3, 1917 in Łódź. Died on September 27, 1983 in Paris.

He was the son of Julia (Jenta) Offenbach and Roman (Abram Hersz) Szczekacz, owner of"Offenbach Central Baths" located at 38 Zachodnia Street inŁódź. Szczekacz descended from a society ofJews who were aware of their identity and cultural heritage, spoke Polish and Yiddish at homes, and forwhom adopting Polish culture did not necessarily entail full assimilation. Samuel Szczekaczwas born into quite a wealthy family.In contrast to a majority of his friends, he was brought up outside the traditional Jewish district.In1935, he graduated from high school and passed his matriculation exams in Łódź. Between1934-1935, Szczekacz and his friend Julian Lewin studied at Maurycy Trębacz studio,then the best private drawing and painting atelier in Łódź. Within the years of 1934 and 1938, he worked as an editor of an avant-garde magazine Forma / Form published in Łódź.

1935 was a turning point in the career of Samuel Szczekacz and his friends. Jankiel Adler introduced the young artists to Mojżesz Broderson, a poet and co founder of a revue show theatre "Ararat", who inturn recommended them to Władysław Strzemiński. At the end of 1935, Szczekacz together with Julian Lewin, Pinkas Szwarc and Yehuda Tarmu entered private evening courses hosted by Strzemiński, who worked as a teacher at the Public Vocational and Continuing Education School No. 10 inŁódź. The avant-garde art was an entirely new discovery for these young people and it became a heady fascination. They studied the theory of abstraction, and its application to the rules of composition in modern painting. Strzemiński's lectures covered new artistic ideas referring to the art of Picasso, Malewicz, Modrian, or Arp. The studies of the avant-garde classic works enabled Strzemiński's students to quickly learn Cubistic, Suprematic, or Neoplastic composition rules, as well as integrate some of the distant lexicons of abstraction.

Diverse compositions painted in Unistic, Suprematic and Cubistic style by Samuel Szczekacz during that year show what an intense and comprehensive educational program it was. In the spirit of the radical avant-garde,the young artists studied not only drawing and painting, but also printing, typography and photomontage of which Samuel Szczekacz was fond at that time. They also explored the field of spatial art, sculpture and architectural design. The first abstract compositions of Szczekacz are composed of a balanced system of horizontal and vertical lines intersected with arches. The areas created by the intersections are filled with colours from a limited palette and their textures are differentiated. The artist often introduced fragments of words or letters onto his paintings. Szczekacz drew inspiration from French Cubism and Dutch Neoplasticism.

Upon Strzemiński's recommendation and inspite of his young age, on December 29, 1936, Samuel Szczekacz (just like his friends) became an ordinary member ofthe Union of Polish Artists and Designers in Łódź. He received the membership card onMay 24, 1937. As a rightful member, Szczekaczwas entitled to participate in the Union's exhibitions. He exhibited at a few shows in January 1937 and April 1938 in Łódź; in November and December 1938 in Krakow and Lviv and in January 1939 againin Łódź. In 1937, the artist who had not yet turned twenty, exhibited his works at the Art Propaganda Institute in Warsaw at a show centered on the Union of Polish Artists and Designers in Łódź. The exhibited paintings, namely Kompozycja I / Composition I and Kompozycja II / Composition II, Głowa / Head, Martwa natura / Still Life, were rooted in the tradition of Cubism. A few works, although it is not sure toda ywhich ones, Strzemiński chose for the collection of the Museum of Art in Łódź. The museum's collection probably also included Szczekacz's Rzeźby neoplastyczne / Neoplastic Sculptures which are known only from the photographic reproductions since they are considered lost.

SAMUEL SZCZEKACZ (1917-1983)

Monograph
published by Hendrik A. Berinson
With a text by Janusz Zagrodzki (english, german, polish)
160 pages
96 color plates
Berlin 2009



- 2 -

At a subsequent exhibitionhosted by the Art Propaganda Institute in 1938,the artist displayed his architectural projects: Osiedle szkolne / School District, Kryty basen / Indoor Pool,Willa podmiejska / Suburban Villa. Szczekacz also showed his most famous works Struktura / Structure and Studia typograficzne / Typographical Studies there. Structure is painted with tempera. The fonts of the letters (m, r, l, o, a, n, i) were placed on a plain background and given the role of graphic signs deprived of any meanings but composed into consistent, geometric forms. They Typographical Studies, in which the artist put together fonts of different sizes, is similar in form but more diverse. However, the structure of its compositionis as strict, clear and precise. The artist also created lithographic versions of Structure in which he repeated the composition in various colours.

The early works show Samuel Szczekacz's dedication to Władysław Strzemiński's theory of Unism, which he consistently applied in the field of easel painting and architectural design.In his compositions of a smooth, winding line corresponding openly to Strzemiński's works, Szczekacz adopted the theory of Unism directly. However, in his typographical studies he applied it in a more creative and independent manner. Szczekacz explained Unism as "a compositionsystem of equal and correlative elements".In his article published in"Forma" / "Form"in1938, Szczekacz wrote:

"Unity of a painting cannot be achieved by a system of juxtaposed shapes and colours as dynamic signs. Unity of a composition may be achieved only by composing equal and correlative malleable elements, organically related to flat surface of the painting and its borders".

At the end of the '30s, the career of this very young, and yet very mature artist, began to show even more promise. At the end of 1938, Szczekacz left for Belgium where he planned to study architecture. He took his works painted in Łódź with him and in this way saved them from destruction during the war. After leaving the country, he took part in the last exhibition before the outbreak of war hosted by the Art Propaganda Institute in1939. He exhibited works which were displayed earlier in Kraków and Lviv such as: Kompozycje unistyczne / Unistic Compositions, Kompozycje kubistyczne / Cubistic Compositions and Rzeźby unistyczne / Unistic Sculptures. A photographic record of the exhibition was later sent to Szczekacz and preserved in the artist's archives. Today,the photographs make it possible to recreate fragments of that exhibition. They mostly show reliefs, or what the artist used to call "carvings". Their innovative form was based on juxtaposed and diverse spatial compositions of lines and areas situated in horizontally and vertically. The colour palette of these works draws from the tradition of Neoplasticism.

Soon before leaving Łódź, Samuel Szczekacz designed graphics for the volume entitled Motorem słów / Words Catalyst, a collectionof sixteenpoems by Władysław Strzemiński published under the pseudonym of Leon Grabowski. One of only two preserved copies is kept in the artist's archives.In 1939, already after leaving Poland, Szczekacz designed a second version of the cover for a new edition of the collection. The artist proposed a more dynamic composition into which he introduced colours - red and light blue.

Samuel Szczekacz, Studium typograficzne, 1937

source: artnation.pl



- 3 -

In 1939, Szczekacz emigrated from Belgium to Palestine where he entered the Hebrew University of Jerusalem. There, he changed his name to Zur. As he was not able to make a living from his painting, since the end of the 1940s the artist worked as a utility designer, typographer, sculptor and architect. He had an excellent background derived from the period of studies under Strzemiński's supervision. The artist designed the Israeli pavilions for the International Trade Fairs in Brusse ls and Poznań in1966. He lived inTel Aviv. He married Nicole Schpilka and they had a daughter Michèle. In 1983,the artist left to Paris for "Présences Polonaises. L'Art vivant autour du Musée de Łódź" exhibition hosted by Centre Georges Pompidou in Paris. His works were displayed at this exhibitionfor the first time after forty-five years. There he died of a heart attack on September 27, 1983.

Publications by Samuel Szczekacz: • System kompozycyjny / Composition System, "Forma", No. 6, 1938 • Teka malarska / PaintingPortfolio (16 colour lithographs),"Futurum" Printing House, Łódź, 1938 • graphic designed itionto the collection of poems by Leon Grabowski [Władysław Strzemiński], Motorem słów /Words Catalyst, Printing House ofthe Public Vocational and Continuing EducationSchool No. 10, Łódź, 1938

Selected solo exhibitions:

• The Students' Organization o fthe Hebrew University ofJerusalem, May 1940 • Galerie Katz, Tel Aviv,July 1944 • "Samuel Szczekacz. Unistyczna harmonia jedności" / "Samuel Szczekacz. Unistic Harmony of Oneness", Centre for Contemporary Art Ujazdowski Castle, Warsaw, November - December 2009

Sources: • Janusz Zagrodzki "Harmonia jedności" / "Harmony of Unity", in "Samuel Szczekacz 1917-1983", ed. Ulrike Graul, Galerie Berinson,Berlin, 2009 • Zenobia Karnicka,"Julian Lewin, Samuel Szczekacz-Zur, Pinhus Szwarc (Pinchas Shaar)", in"Polak, Żyd, artysta. Tożsamość a awangarda" / "Pole,Jew, Artist. Identity and Avant-garde", Museum of Art inŁódź, 2009 Author: Magdalena Wróblewska,July 2010. Translated by Katarzyna Różańska, September 2010.
---
copy new product table here
---