Jewish Colonial Trust (JCT) shares
WhatsNew:
Release Jan 6, 2018
Fajgla Kaluzynski and Wolf Szperling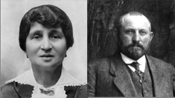 The Holocaust Had no Mercy for the Szperling Family
Stories and Photos
Release June 26, 20
A Telephone call from Australia to Californiaswept Jane and me into a research in the Czech Republic. Several families appeared for a moment and then disappeared during the Holocaust. Very few suvivors, many Yad Vashem testimony pages and research in the Czech Republic declared Jane, Dov Kuflik, his sister, Idit, and the five grandchildren of Josef Arieli, my self included, are 3rd cousins. Jane, Dov and his sister, Idit, are 2nd cousins.
The following story is about Dawid Sznajderman, the son of Abram Moshe Sznajderman and Ajdla Koenigsberg, who survived the tumultuous time of WWII.

Marek Kaluzynski was son of my great grandfather, Abram Kaluzynski, and his second wife, Chaja Dzialoszynska.

Marek's mother, Chaja, died around 1912 in Czestochowa, leaving his father with five young children;
the youngest, Sara, was two years old. Marek was fourteen years old.
Minutes from Fela Kluzynski's Life in Photos

Important Links
Read the Beautiful translation by Jerrold Landau
Connect with Czestochowers all over the wold.
The World Society of
Czestochowa Jews
And Their Descendants
Family History
Memories, like sand stones
Slowly, a grain follows a grain,
Erode, crumble, and vanish.
Sea waves and wind
Sweep them away
Hurry
Listen to the voices
Collect the words,
The names, the episodes, the moments…
Carve and seal them
In a meticulously crafted pendant
Close to your heart
Allow them to live forever.
Let Us Start With Basic Steps:
Write down everything you know about yourself and about your family:
Full names
Date of Birth, Marriage and Death
Where these events occured
Talk to your grandparents, parents, uncles and aunts
Write down family anecdotes
Scan family photos
Scan Family documents
Jewish Colonial Trust (JCT) shares
Shares in the Jewish Colonial Fund established by Bejamin Ze'ev Herzl in 1899 to serve as the Zionist Movement's financial arm.
Restitution of Assets - Holocaust Victims
The following is a list of Zawiercie residents who purchased assets located in Israel before they found their death under the Nazi regim.
| | | | |
| --- | --- | --- | --- |
| Residence | Last Name  | First Name | Number |
| Zawiercie  | Akermann  | Abraham  | A67909  |
| Zawiercie  | Akermann  | Chawa  | A67910  |
| Zawiercie  | Barbanel  | Faiwel  | A67911  |
| Zawiercie  | Bogacki  | Johann  | A67912  |
| Zawiercie  | Borzekawski  | Schmul Josif  | A67913  |
| Zawiercie  | Brandes  | P.  | A67914  |
| Zawiercie  | Bromberg  | Feitel  | A67915  |
| Zawiercie  | Broniatowski  | S.  | A67916  |
| Zawiercie  | Bugojer  | Leibusch  | A67917  |
| Zawiercie  | Cymbler  | Kalman  | A67918  |
| Zawiercie  | Ehrlich  | Icek Jacob  | A67919  |
| Zawiercie  | Feldbaum  | Binem  | A67920  |
| Zawiercie  | Feldberg  | David  | A67921  |
| Zawiercie  | Frenk  | Leib  | A67922  |
| Zawiercie  | Ganoweich  | Szaja S.  | A67923  |
| Zawiercie  | Gebotschreiber  | M.  | A67924  |
| Zawiercie  | Habermann  | Mordcho  | A67925  |
| Zawiercie  | Helberg  | Samuel  | A67926  |
| Zawiercie  | Hendler  | Kopel  | A67927  |
| Zawiercie  | Hirschberg  | Wolf  | A67928  |
| Zawiercie  | Holenderski  | B.  | A67929  |
| Zawiercie  | Jostawowitz  | Eizik  | A67930  |
| Zawiercie  | Kamelgarn  | Abram  | A67931  |
| Zawiercie  | Kempinski  | S.  | A67932  |
| Zawiercie  | Kempner  | Julj  | A67933  |
| Zawiercie  | Kron  | Chaim  | A67934  |
| Zawiercie  | Kronenberg  | Daw Landau  | A67935  |
| Zawiercie  | Lewinstein  | Nathan  | A67936  |
| Zawiercie  | Lugerner  | Chaim  | A67937  |
| Zawiercie  | Lustiger  | Icek Mordche  | A67938  |
| Zawiercie  | Margulies  | Sal  | A67939  |
| Zawiercie  | Margulies  | Tsydor  | A67940  |
| Zawiercie  | Meitlis  | Herm  | A67941  |
| Zawiercie  | Miadowik  | Benjamin  | A67942  |
| Zawiercie  | Moskowicz  | Adolf  | A67943  |
| Zawiercie  | Murawiecki  | Leiser  | A67944  |
| Zawiercie  | Pesach  | Margulies  | A67945  |
| Zawiercie  | Plawner  | Chaim  | A67946  |
| Zawiercie  | Plawner  | Gerzon  | A67947  |
| Zawiercie  | Rosenstein  | Henech  | A67948  |
| Zawiercie  | Rotenberg  | Ber Hersch  | A67949  |
| Zawiercie  | Rotenstein  | Pinkus  | A67950  |
| Zawiercie  | Schneidermann  | Abraham Moses  | A67951  |
| Zawiercie  | Schwartz  | B.  | A67952  |
| Zawiercie  | Seidenmann  | Ludu  | A67953  |
| Zawiercie  | Seidermann  | Herm  | A67954  |
| Zawiercie  | Silbermann  | Aron  | A67955  |
| Zawiercie  | Silberstein  | B.  | A67956  |
| Zawiercie  | Sojka  | Benjamin  | A67957  |
| Zawiercie  | Sojka  | Samuel  | A67958  |
| Zawiercie  | Spewak  | Szapsa  | A67959  |
| Zawiercie  | Srebrny  | Josef  | A67960  |
| Zawiercie  | Studenberg  | Ch.  | A67961  |
| Zawiercie  | Tenenbaum  | D.Leib  | A67962  |
| Zawiercie  | Torgownik  | Mendel  | A67963  |
| Zawiercie  | Turner  | Dawid  | A67964  |
| Zawiercie  | Turner  | Moses  | A67965  |
| Zawiercie  | Turner  | S.  | A67966  |
| Zawiercie  | Wechsler  | Icek Majer  | A67967  |
| Zawiercie  | Weintraub  | Mor  | A67968  |
| Zawiercie  | Wigdersohn  | Pinkus  | A67969  |
| Zawiercie  | Windman  | Feigel L.  | A67970  |
| Zawiercie  | Wytrzyc  | Benjamin  | A67971  |