Marek Kaluzynski
Facts and Legends
WhatsNew:
Release October 16, 2022
Yigal used to write short chapters and read them at various events in the nursing home where he lived in the last years of his life.
The large and interesting part of the chapters are part of his life history.
Few are translations or abridgments of facts related to general education.
Release Feb 23, 2020
Berek Szczekacz and Chana Szmidt
Berek Szczekacz and Chana Szmidt had 12 children. Searching for Birth, Marriage, Death records (BMD) brings us occasionally to meet living family members. I admit, getting to know new blood related family members is the most exciting part of doing genealogy. Lately I met Yoram Shachar, one of Berek and Chana's great, greatgrandchild about whom I haven't heard until Dec 15, 2019. The meeting has prompted me to create pages for the descendants of Berek Szczekacz, our mutual great, great grandfather. The released page will introduce you to the 12 children and to their children. Currently there are only two documented stories, about Layzer Ludwig Szczekacz and about Frajdla Szczekacz. The stories about Yoram Shachar, Samuel Szczekacz (The artist, Shmuel Tzur), the many Shakter's descendants and others will follow soon.
Release Nov 9, 2019
Yosef Kaluzynski and Chana nee Sznajderman
Release Jan 6, 2018
Fajgla Kaluzynski and Wolf Szperling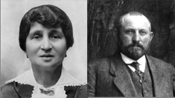 The Holocaust Had no Mercy for the Szperling Family
Stories and Photos
Release June 26, 20
A Telephone call from Australia to Californiaswept Jane and me into a research in the Czech Republic. Several families appeared for a moment and then disappeared during the Holocaust. Very few suvivors, many Yad Vashem testimony pages and research in the Czech Republic declared Jane, Dov Kuflik, his sister, Idit, and the five grandchildren of Josef Arieli, my self included, are 3rd cousins. Jane, Dov and his sister, Idit, are 2nd cousins.
The following story is about Dawid Sznajderman, the son of Abram Moshe Sznajderman and Ajdla Koenigsberg, who survived the tumultuous time of WWII.

Marek Kaluzynski was son of my great grandfather, Abram Kaluzynski, and his second wife, Chaja Dzialoszynska.

Marek's mother, Chaja, died around 1912 in Czestochowa, leaving his father with five young children;
the youngest, Sara, was two years old. Marek was fourteen years old.
Important Links
Read the Beautiful translation by Jerrold Landau
Connect with Czestochowers all over the wold.
The World Society of
Czestochowa Jews
And Their Descendants
Family History
Memories, like sand stones
Slowly, a grain follows a grain,
Erode, crumble, and vanish.
Sea waves and wind
Sweep them away
Hurry
Listen to the voices
Collect the words,
The names, the episodes, the moments…
Carve and seal them
In a meticulously crafted pendant
Close to your heart
Allow them to live forever.
Let Us Start With Basic Steps:
Write down everything you know about yourself and about your family:
Full names
Date of Birth, Marriage and Death
Where these events occured
Talk to your grandparents, parents, uncles and aunts
Write down family anecdotes
Scan family photos
Scan Family documents
Marek Kaluzynski
Marek Kaluzynski was son of my great grandfather, Abram Kaluzynski, and his second wife, Chaja Dzialoszynska.
Marek Kaluzynski was born on September 6, 1898, in Czestochowa, according to the Czestochowa Book of Permanent Residents 1870-1930 and data from "Czestochowa PSA BD1885-1901 M1884-1901".
| | | | | |
| --- | --- | --- | --- | --- |
| Surname | Given name | Year | Type | Akt |
| KALUZYNSKI | Markus | 1898 | B | 315 |
Czestochowa Book of Residents 1870-1930 provides the following information:
| | | | | | | | | |
| --- | --- | --- | --- | --- | --- | --- | --- | --- |
| Surname | Given name | House number | Request sequence number | Syg. for this index book | Parents | Date of birth | Place of birth | Civil status |
| KALUZYNSKI | Markus | 354 | 10223 | 27/74 | Abram and Haja Dzialoszynska | September 6, 1898 | Czestochowa | Unmarried |
Czestohowa (Military) Conscription 1920; Czestochowa Archives, syg. 8817-? provides the following data:
Czestochowa Year: 1898 Syg: 8834 Vol.1 (book made 1 April 1926)
numbering 113
Person:                                    Kaluzynski Markus
Date and Place of Birth:          8 Sep 1898 Czestochowa
Parents:                                   Abram and Chaja nee Dzialoszynski
Profession of father:                Without work
Residence of parents:  Czestochowa, ii Aleja 16
Residence of person:               the same
Religion:                                  Jewish
Profession:                              Accountant
Education:                               4 class
Marek's mother, Chaja, died around 1912 in Czestochowa, leaving his father with five young children; the youngest, Sara, was two years old. Marek was fourteen years old.
Marek's life experiences gave rise to many legends about his love life and his fate. Every survivor of the Kaluzynski family had his own version of Marek's tragedy. His sister Sara Kaluzynski Lukov believed in several different tales. My father, Ariel Arieli, who visited Poland but never met him, had another version, and Rina Irmay, his cousin, who also never met him, had her own set of memories about him. They all told their stories about Marek's life repeatedly, and of course we, the next generation, expanded the story, twisted it, and modified it into what it is now—truly a fiction.
Sara Lukov, his sister, told me:
Marek, as the family used to call him, was a handsome young man. At home the family called him Mokusz. He resisted the name, insisting it was too childish for him.
Marek's math skills were outstanding. Even a very complex set of mathematical calculations would take him no more than a few seconds to solve.
Marek's father, Abram Kaluzynski, was a poor merchant who was hardly able to support his many children. Marek felt obliged to support him. He started as clerk and later became a manager in a glass factory.
The exciting part of the story is about Marek's lover, a rich Jewish woman, whose name may have been Natalia. She was in the cigarette business. She forcefully convinced Marek to leave his jobs and to invest his money in the cigarette business. In return she promised to marry him. The cigarette business did not exist, the cigarettes that did exist were stolen, and Marek subsequently lost his money. Sara Lukov, on one occasion, told me that Marek's involvement with stolen goods brought him before the court, and he was sentenced to prison. In prison, all the wards liked him, and there, a few took him around Czestochowa in a cart.
The story goes on to say that Marek escaped prison and fled to France. It is not clear whether Marek fled to France because of his financial troubles or because of the anti-Communist Polish government. One account of Marek's story goes so far as to claim that one of the wards helped Marek to escape prison with a recommendation to flee to France.
But the most dramatic version tells us that Marek went to see his lover at her home. His lover was sitting with her family around the kitchen table. An unknown person was also present at the table. Marek, naturally, approached his lover and tried to embrace her, but she spurned his advances:
"Who is that person? Why he is approaching me?"
Marek, infuriated by her response, attacked her with a knife, wounding his former lover. Marek was again taken to the prison.
Another variation tells us that Marek fell in love with a female artist who was a dishonest prostitute. She pressed him for money and forced him to resign from his job in the glass factory. One day Marek visited her at her home. The lady stood in front of a mirror, trying on a new hat. When she saw Marek, she told him to leave immediately and insisted that she did not want any further relations with him.
Marek could not bear this betrayal and murdered her.
In yet another variation, Marek went into a bar. At that time, he and his lover were already separated. When he entered the bar, his lover was there, making love to another man. She behaved like a prostitute and started mocking Marek in front of everyone when he came in. Marek could not control himself and confronted her forcefully. His lover did not survive the attack.
One of the addenda to all the variation is a rather far-fetched story about a painting by Marek or by his lover. The subject of the painting, the legend goes, is a woman who has been murdered by her lover. The story goes on to say that people treated the painting as if it inspired or prophesied the actual murder.
While you may have thought for a moment that all the variations had been accounted for, there remains one more story. There was a murder, a sentence, years in prison and at last a release. The most sentimental story tells of Marek leaving the prison on one dark, snowy winter day. Freedom and a new life awaited him, but he chose to plod along the road leading into the cemetery. A thick blanket of snow covered his lover's grave… That is the last the family heard of him.
Another ending suggests that family members successfully argued that Marek's anger had been greatly provoked by his victim and that he took on office work for the authorities at the end of his sentence.
The story was all over Czestochowa's newspapers. It was blown out of proportion.
Carol Kaluszyn, his cousin, claimed to have a newspaper with the story about Marek Kaluzynski. I can perhaps add another entry to my long to-do list: search for that newspaper clipping.  Who knows what I might find?
Marek's fate remains uncertain.
My imagination and my tendency to believe in his romantic, tragic ending led me to choose the story about Marek embracing his lover's grave under the snow forever.
Do not be carried away; it is only the fictional story I love best.
Did he die in prison?
Was he killed in a military service?
One of the stories does tell of him serving as an officer in the Polish army. I have one photo from Sara Lukov, and I am inclined to believe it is of Marek. In the photo, Marek appears as a Police soldier.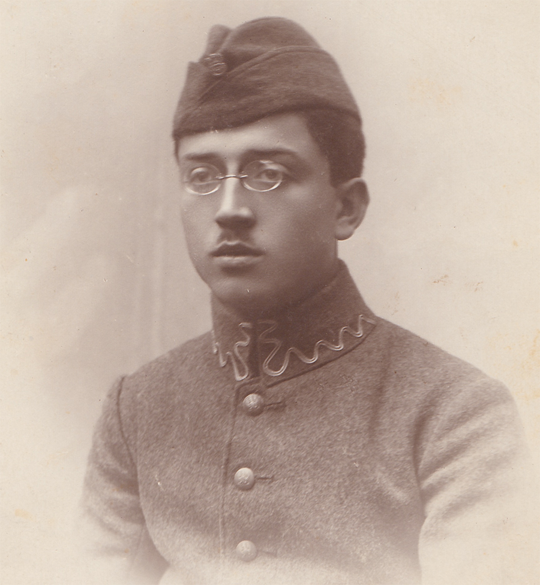 Was he murdered during the Holocaust?
Sara Lukov provided a testimony page to the Yad Vashem database about him, his wife, and his daughter.  She never told me about the testimony she gave. I found it while searching the Yad Vashem database for testimonial pages by her.
Here is the page image and its content translation: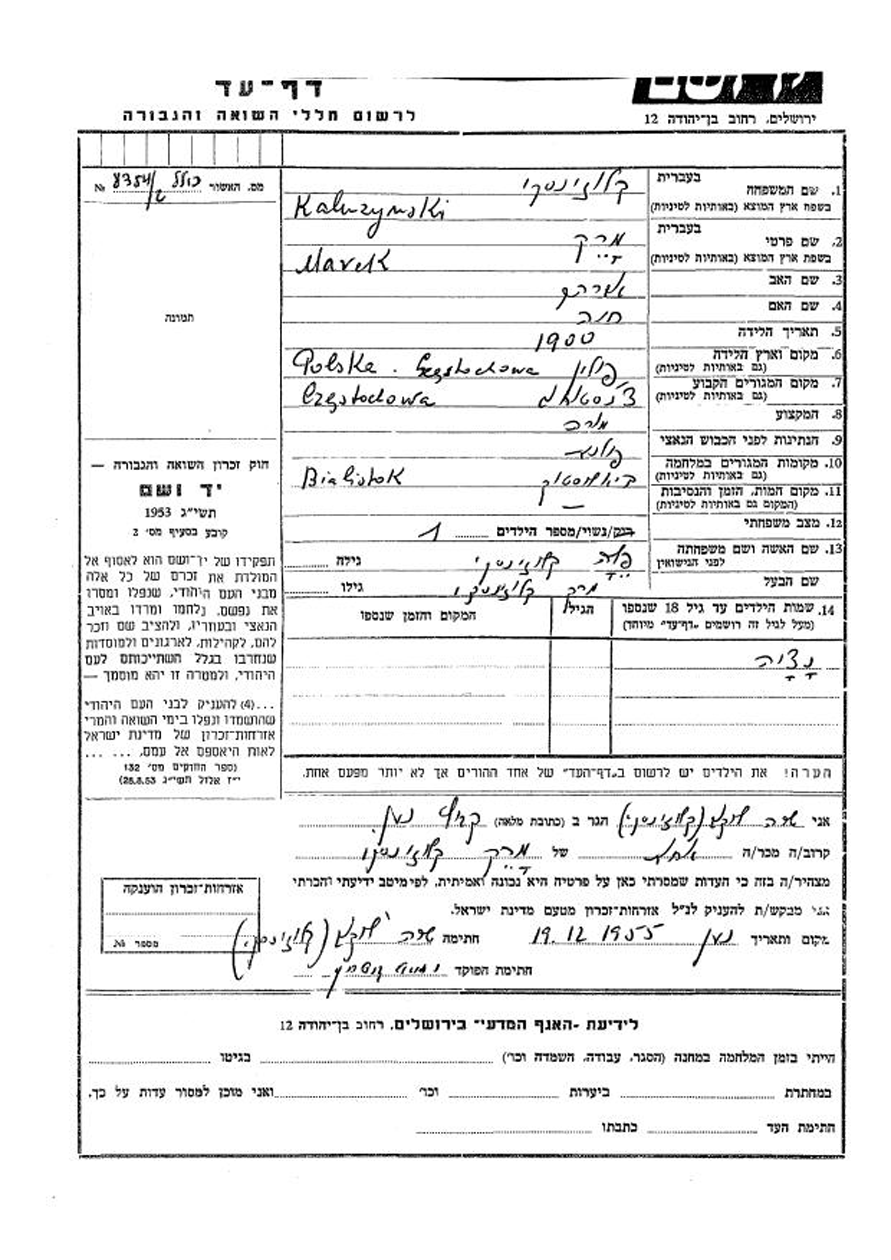 | | |
| --- | --- |
| Source | Pages of Testimony |
| Last Name | KALUSZYNSKI |
| Last Name | KALUZYNSKI |
| Last Name* | KALOSHINSKI |
| First Name | MAREK |
| First Name | MARK |
| Father's First Name | AVRAHAM |
| Mother's First Name | KHAVA |
| Sex | Male |
| Date of Birth | 1900 |
| Place of Birth | CZESTOCHOWA, CZESTOCHOWA, KIELCE, POLAND |
| Marital Status | MARRIED |
| Spouse's First Name* | ANA |
| Name of 1st Child* | NADEZHDA |
| Permanent residence | CZESTOCHOWA, CZESTOCHOWA, KIELCE, POLAND |
| Profession | TEACHER |
| Place during the war | BIALISTOK, BIALYSTOK, BIALYSTOK, POLAND |
| Type of material | Page of Testimony |
| Submitter's Last Name | LUKOV |
| Submitter's Last Name | KALUZYNSKI |
| Submitter's Last Name* | KALOSHINSKI |
| Submitter's First Name | SARA |
| Relationship to victim | SISTER |
| Registration date | 19/12/1955 |
Summary of Sara's testimony to Yad Vashem:
"Marek Kaluzynski was born in Czestochowa in 1900 to Avraham and Khava. He was a teacher and married to Ana. Prior to WWII he lived in Czestochowa, Poland. During the war, he was in Bialistok, Poland. Marek perished in the Shoah. This information is based on a Page of Testimony (displayed on left) submitted on 19-Dec-1955 by his sister."
When I found the page, I was surprised with its content. Sara never told me about Marek's murder in the Holocaust.  No one, including Sara, had ever spoken about Marek's family in Bialystok. I spoke with her in 2002 and heard many of the variations about Marek's life from her.
An additional photo was found in the Yad Vashem Archive:
Czestochowa, Poland, A Photograph of a Jewish Sports Group
In the photo: 1) Holfhasemd, 2) T. Kizing, 3) Tendler, 4) J. Webwr, 5) F. Kranskopt, 6) M. Lemel, 7) M. Praport, 8) L. Davidowiez, 9) C. Kempner, 10) M. Kaluzynski, 11) U. Brum, 12) A. Soteiner, 13) Teigl, 14) Smothgd.
Places: CZESTOCHOWA, POLAND, Credit: Yad Vashem Archival Signature:53AO6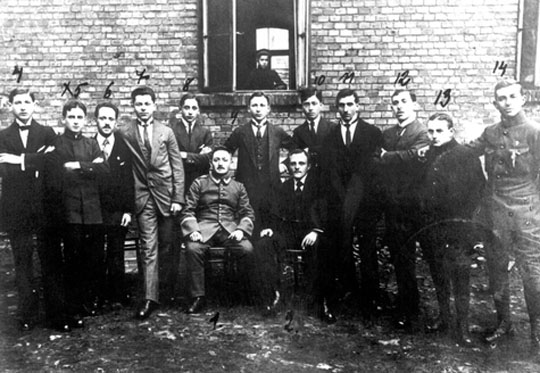 The identity of the two persons sitting in the middle of the photo is not clear.
The findings triggered me to try to extend the research.
"How did he get to live in Bialystok during the war?" I thought.
Evelyne Handel, my friend from Belgium, heard the story and suggested that perhaps he did not flee France—perhaps he was deported from France back to Poland.
I looked up the list of deported Jews from France. Marek was not on the list.
I searched in Google for "Markus Kaluzynski Poland Expulsion" and an html version of the document http://arrow.arch.be/ddd/20455.pdf appeared on the screen. It was a French document dated July 31, 1928,  and titled "CONSEIL 3B CABINET DIT 31 JUILLET 1928." The document has fourteen sections. The image of the twelfth section is below: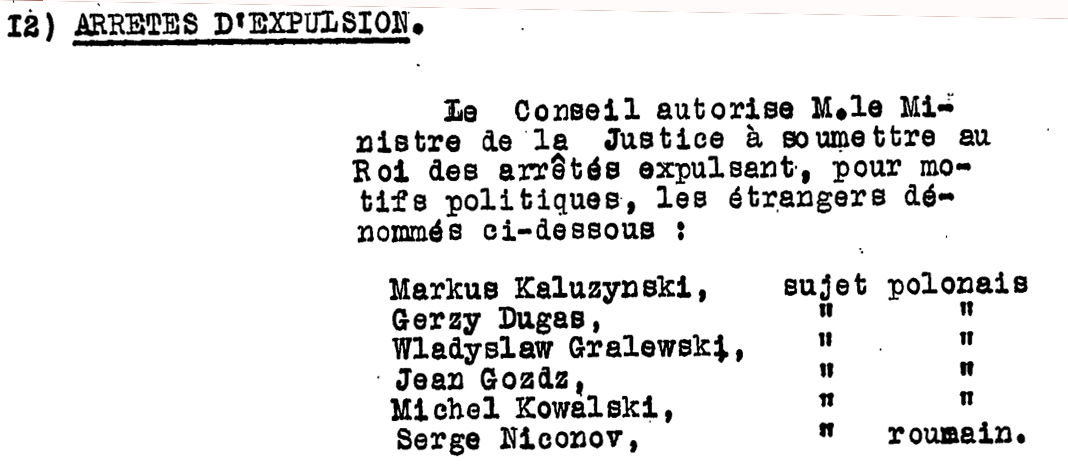 The translation of the document: The Council authorizes the Minister of Justice to submit to the King judgments expelling, for political reasons, the aliens mentioned below.
Markus Kaluzynski name appears in the list.
Another Document from Belgium, Antwerp Police Immigration Index, 1840-1930 for Markus Kaluzymski gives the following information:
| | |
| --- | --- |
| Name: | Markus Kaluzymski |
| Event: | Immigration |
| Event Date: | 1916-1930 |
| Event Place: | Antwerpen, Belgium |
| Birth Date: | 1898 |
| Birthplace: | Czestochowa, Polen |
| File Number: | 203100 |
| Page: | 1531 |
| Film Number: | 2234923 |
| Digital Folder Number: | 4331464 |
| Image Number: | 00414 |
I am inclined to believe that Markus is a relative of mine. The legends tell about a flight to France. The Yad Vashem documents a death in the Holocaust. The expulsion year is 1928, which falls in line with the other data.
At one point in my research I wrote to the "International Trace Service" in Bad Arolsen, Germany.  There was no information about Markus at this archive, but in keeping with my request, they sent an inquiry to the Red Cross in Poland.  The process involves a long wait time.
The following paragraph is not in line with the chronology of the events as they happened in the past but is in line with timetable of my searching.
I sent this article to my friend Daniel Kazez of CRARG, and I got the following data which is supporting the fact of Marek's arrest. The data doesn't provide the reason for his arrest. This should be further researched.
The source of the data: Czestochowa Book of Residents 1870-1930
Markus Kaluzynski, born 25 Aug / 6 Sep 1898 Czestochowa
By sentence District Court of Piotrkow from 9 Mar 1924 he was sentenced for 4 years prison and deprived of rights
The story ends here but it is not completed.